<< Back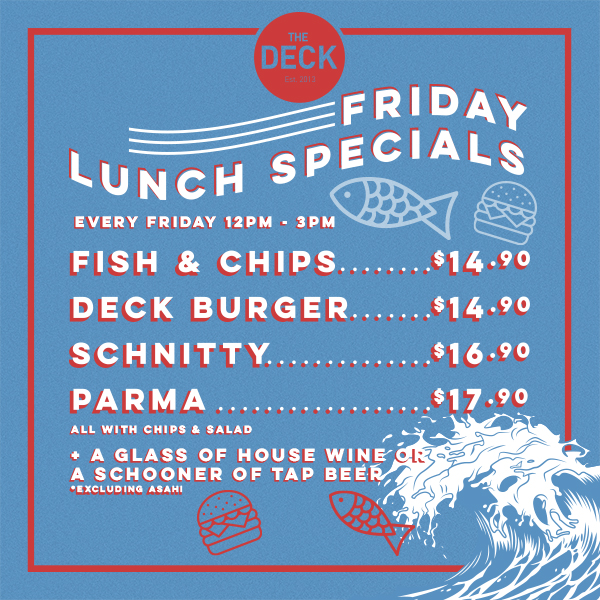 Our Famous Best Value Lunch Specials are the talk of the town.
Starting at a ridiculous $14.90 including a cheeky bevvy.
++Fish N Chips with a Stone & Wood beer batter
++Our Awesome Deck Burger
++House made Monster Parma
++Or a Monster Schnitzel & Gravy
Every lunch includes a complimentary Schooner of Furphy Refreshing Ale, Stone & Wood Pacific Ale, Heineken Lager, The Deck's Session Lager, James Squire Orchard Crush Cloudy Apple Cider or a nice glass of Morgans Bay House Wine or Sparkling.
Leverage your workplace into a 'Business Lunch' or 'Team Meeting'.
Use our Free WiFi to Zoom your colleagues in Aspen.
Invite your Mum, Grandpa, Brother, or Bestie for that lunch you promised 6 weeks ago 🙂
We can accommodate a party of one or one hundred!
The Kitchen opens for lunch on Fridays at midday and closes 3pm.
($1 wings and $1.50 oysters kick off from 4pm-6pm. Dinner Menu is back at 5pm).